SAMPE Seattle, Washington: May 23 &24 2017
We are proud to be exhibiting at SAMPE Seattle 2017, and we hope to see you there!
Please come and visit us in booth D6.
A Free Exhibit Hall Only Registration
or 5% Off Conference Registration!
Use promo code evc1505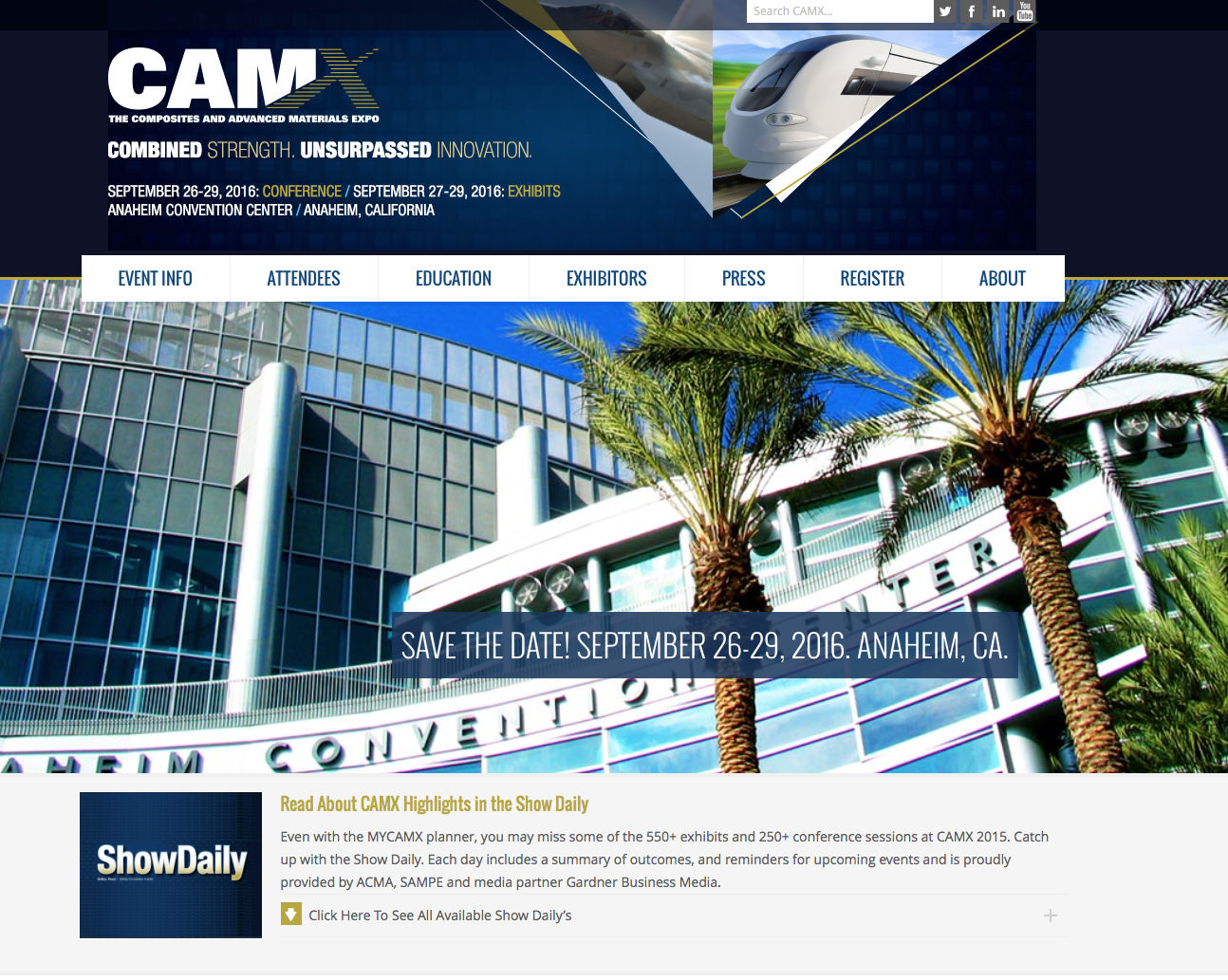 CAMX September 26-29 (Anaheim, CA)
CAMX – The Composites and Advanced Materials Expo
CAMX is the largest, most comprehensive composites and advanced materials event for products, solutions, networking, and advanced industry thinking. This collaborative event combines the strengths of two leading associations, ACMA and SAMPE, to deliver the right exhibitions, the right educational programs, and the right people – all in one place.
At CAMX you will…
Visit the most comprehensive marketplace for business in the industry, with 550+ exhibitors and meeting rooms for getting business done.
View cutting edge technology and innovations in product showcases.
Discover new commercial and industrial applications.
Keep pace with key developments and trends, and exchange ideas and experiences.
Uncover areas of untapped growth for your organization.
See live manufacturing demonstrations.
Network with thousands of industry professionals from the U.S. and around the globe.
Choose from 250+ conference program sessions.
PRI December 8-10 (Indianapolis, IN)
The PRI Trade Show Is The Epicenter Of New Racing Technology
Buyers From All 50 States And 70+ Countries
1,200 Exhibiting Companies Totaling Over 3000 Booths
More New Racing Products Than Anywhere On Earth
Attention Racing Industry Suppliers:
Capture Your Share Of This Powerful Market
Conduct Business Face To Face With Racing Key Decision Makers
Get Your Products Into The All-Important Racing Distribution Pipeline
Exhibit Space Is Still Available!
Attention Racing Industry Buyers:
Preview The Latest Advances In Racing Technology And Products
Shop The Latest Machining And Fabricating Equipment
Get Ready For 2016! You Can't Afford To Miss A Single Day
Preregister Online, And Receive Your Credentials In The Mail
Don't miss the three biggest business days in motorsports when the worldwide racing industry gathers in Indianapolis, December 8 – 10, 2016, for the 29th Annual Performance Racing Industry Trade Show.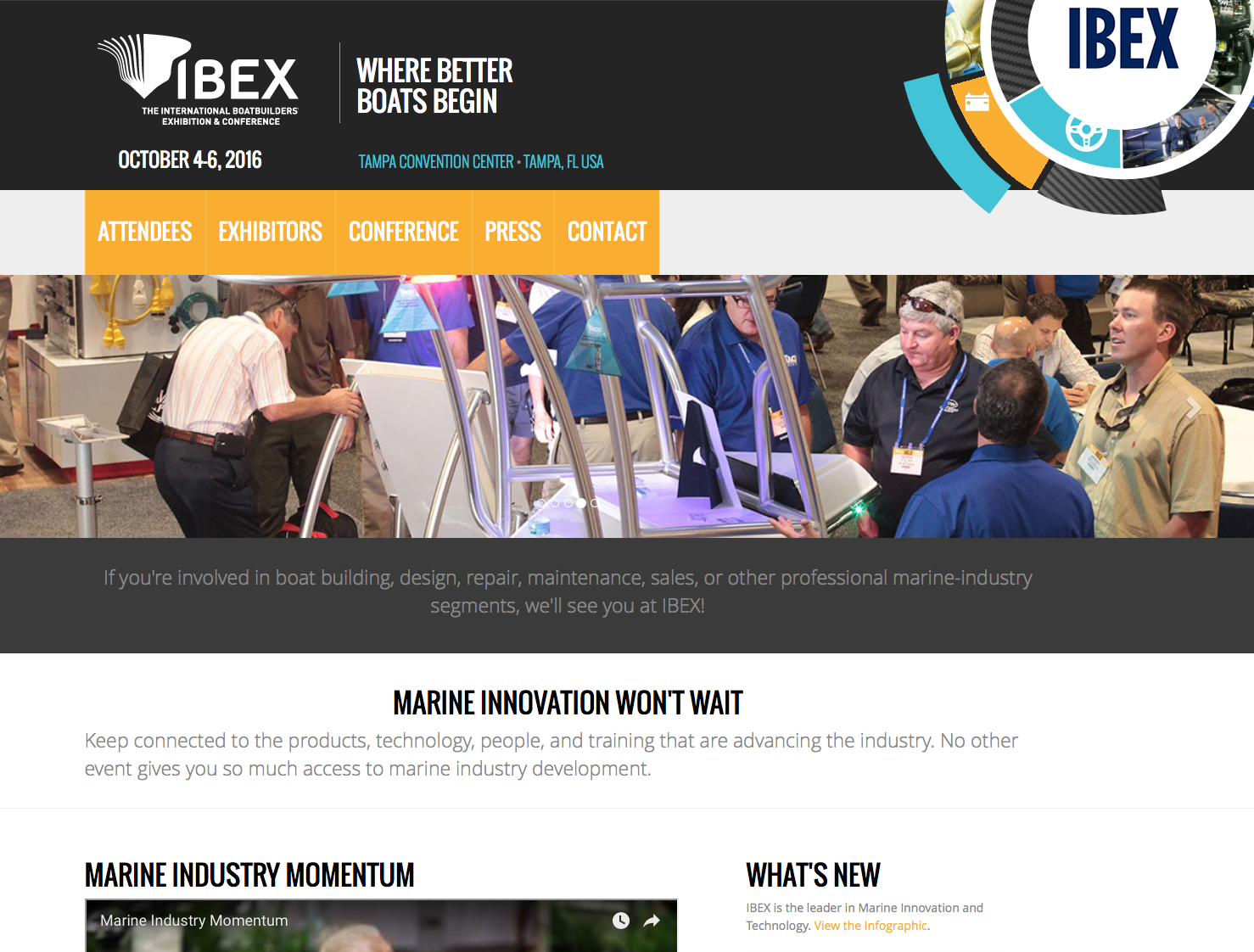 IBEX October 4-6 (Tampa, FL)
WHO SHOULD ATTEND?
If you build, design, service, or sell boats or marine products, IBEX is your must-attend marine event.
If it's new, improved, advanced, and innovative for the marine industry, you'll find it at IBEX.
The world's leading technical boat-building showcase, IBEX delivers a unique forum where the marine industry can do business, share ideas, and accelerate new product development.
Don't miss the opportunity to do business with the entire marine industry.
IBEX. Designed to build better boats.
Who Should Attend?
IBEX has been welcoming marine industry professionals for more than 20 years. The list below is just an overview of professionals who should plan to attend.
Boatbuilders
Repair & Refit/Boatyard operators and crew
Yacht Designers, Naval Architects, Engineers
Purchasing & Sourcing Agents
Government & Military Engineers
Marine Accessory Manufacturers
Marine Wholesalers & Distributors
Marine Dealers and Retailer
Marine Manufacturer Representatives
Marine Surveyors & Consultants
Marine Associations & Academics
Marina Operators
Fabricators & Laminators
Yacht Captains
Marine Press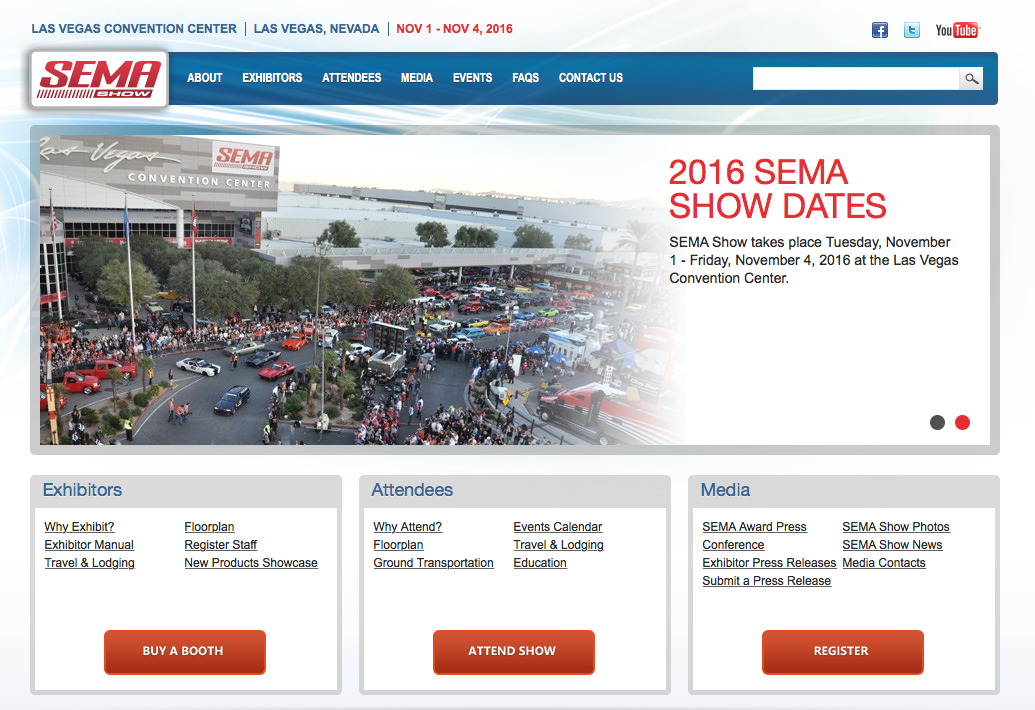 SEMA November 1-4 (Las Vegas, NV)
The SEMA Show takes place November 1 – November 4, 2016 at the Las Vegas Convention Center located at 3150 Paradise Road; Las Vegas, NV 89109.
The SEMA Show is the premier automotive specialty products trade event in the world. It draws the industry's brightest minds and hottest products to one place, the Las Vegas Convention Center. In addition, the SEMA Show provides attendees with educational seminars, product demonstrations, special events, networking opportunities and more.
The 2015 SEMA Show drew more than 60,000 domestic and international buyers. The displays are segmented into 12 sections, and a New Products Showcase featured nearly 2,500 newly introduced parts, tools and components. In addition, the SEMA Show provides attendees with educational seminars, product demonstrations, special events, networking opportunities and more…
Note: The SEMA Show is a trade-only event and not open to the general public.