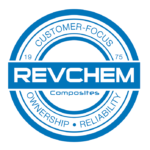 Website Revchem Composites
Composite Solutions... Delivered Daily
REPORTS TO: GENERAL MANAGER
The primary function of the Warehouse Manager is to ensure the timely and accurate delivery of products and maintain a safe, clean, and organized facility guided by the objectives of the company and its management team. The Warehouse Manager is responsible for the leadership, management, and vision necessary to ensure that the distribution center and transportation fleet have the proper operational controls, administrative reporting procedures, and people systems in place to effectively improve these departments.
The ideal candidate will have a minimum of 5 years of experience in directly managing employees, experience managing a pick and pack operation, and all inventory control processes (receiving, put away, picking, cycle, and physical count). The ideal candidate will have knowledge of all private fleet requirements for the transportation of hazardous materials as well as the maintenance and auditing of commercial transportation carriers. Additionally, the candidate will have strong computer skills and the ability to create and implement cost-saving measures throughout the distribution center. The candidate must be proactive, have a strong work ethic, and be able to interact with all levels of the organization.
WAREHOUSE/DISTRIBUTION
3 to 5 years managing small to medium stand-alone site.
Hazardous materials handling & storage.
PRIVATE FLEET DELIVERY/TRUCK ROUTING
Driver management including logs & DVIR's.
Vehicle maintenance, road service, truck routing.
Regulatory compliance including DOT & BIT.
Hazardous transportation.
JOB DESCRIPTION
Supervise and assign daily distribution activities relating to receiving, handling, and distributing supplies and chemicals.
Motivates, mentors, leads, attracts, recruits, and retains qualified distribution team members and develops 'bench strength'.
Responsible for the safety behaviors and safety performance of the facility, in compliance with state and local OSHA regulations.
Responsible for driving process improvement through the use of Process Excellence tools and methodology.
Responsible for all local, state, and federal regulatory compliance as it relates to distribution and transportation. Ensures all regulatory policies are being administered in conformance with established company guidelines.
Ensures that fork lifts, trailers, trucks, stackers, ladders, pallets, shelves, and distribution machinery are in safe operating conditions. Develop and monitor required maintenance plans for company equipment to maximize operating efficiency.
Responsible for tracking critical operating metrics to ensure the cost-efficient safe delivery of all products.
Contribute to the development and management of an annual distribution and transportation operating budget.
Ensures that both the inside and outside of Warehouse facilities are clean and orderly.
Conducts performance appraisals. Provides measurable feedback to assigned personnel and suggestions for improved performance. Formulates and implements employee corrective actions as needed.
Manage key operational development aspects of expansion and growth of the business.
MANAGEMENT SKILLS
Experienced team builder and participant.
Must have a teaching and mentoring style.
Proven track record of measurable improvements.
Purchasing/Inventory Control experience.
Knowledge of ERP/WMS systems.
Track record of tight inventory control in a high service level business (i.e. next day delivery).
This position requires a 'hands-on' person who can manage all aspects of a small to medium size distribution operation including facility management, transportation, and daily operations. The Warehouse Manager will be a proactive, strategic thinker who will contribute to the efficient and profitable operation of a growing distribution operation.