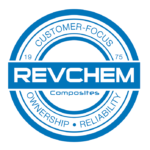 Website Revchem Composites
Composite Solutions... Delivered Daily
Our Company
Revchem Composites has been in business since 1975, we are privately held company, driven by our core values, Revchem has helped customers improve their processes as well as grow their businesses. We do what it takes to help keep businesses profitable and relevant in today's ever changing environment. Revchem Composites offers an extensive selection of materials, supplies and equipment to the composites industry. Our large inventory, technical expertise, on-site support, personalized customer service and fast, flexible delivery makes us a valuable partner to the composites industry. Our customers are in the Surfing, Motorsports, Aerospace, Automotive, Movie industries, and more.
Our Benefits Package
Medical, Dental, and Vision Insurance
Life Insurance
401(k) Plan
Paid Holidays
Vacation Time

·       Flexible schedules

·       Competitive Pay

Sick Pay
Referral Bonus Program
And a lot more!

 
Our Culture
At Revchem Composites we are driven by our CORE Values: Customer Focused, Ownership & Reliability. Working together as a team is at the center of our CORE Values. These values guide us in everything we do and push us further in our growth both as a company and as individuals, cultivating an environment where employees are inspired and empowered as we build and thrive together.
Summary of Role/Position
Revchem Composites is looking for an outgoing, energetic and detail-oriented candidate to support all aspects of main office, customer service and administration areas. The Receptionist role requires a strong communicator with excellent customer service skills, who can move quickly and knows how to prioritize when faced with multiple tasks. They will need to be dependable, emotionally intelligent, and good at creative problem solving. The ideal candidate would be proactive, with a positive outlook, who excels in a fast-paced, dynamic environment! Bilingual skills are preferred for this position. If you are looking for an opportunity to enhance employee experiences for a growing organization, this is the opportunity for you!
Responsibilities
Answer all incoming calls from the company's main telephone system and all overflow Sales Support calls
Ability to Route all calls to the appropriate parties.
Greet visitors and direct them to the correct destination.
Maintain all Sales Support Department Files
Maintain a pleasant appearance of the reception area, lobby, and other general office areas.
Excellent organizational skills and ability to prioritize assignments.
General administrative and clerical support from the different departments of the organization.
Distribute mail
Assist with projects in a timely manner
Perform other related duties as assigned.
Qualifications and Skills
Bilingual skills a plus
High school diploma or equivalent
1-2 years of customer interaction (customer service, receptionist)
Ability to work in a fast-paced environment and work both independently and in a team
Skill in using a PC with associated programs including Word, Excel, and Email
Should be organized, self-motivated, and resourceful
Excellent interpersonal and communication skills, written and oral
Always seeking to improve process, efficiency, and support to business
Anticipate the needs of team members and visitors
Provide exceptional customer service
Strong time management and swift turnaround on tasks
Capable of confidently interfacing with executive team, employees, and visitors at all levels diplomatically
Proven ability to multi-task and operate successfully under tight deadlines
Physical Requirements
Friendly, high-energy personality with a passion for creating a comfortable and inclusive environment
Ability to lift and/or move up to 25 pounds
Ability to spend long hours sitting while using a computer or other office equipment
Full availability to work Monday-Friday, 7:30 AM to 5:30 PM and occasionally outside of these hours
Pay
In accordance with California's labor code, the expected salary/hourly range for this position is between $18.00 to $21.00 per hour. A new hire's actual pay will be determined based on experience, skillset, geographic location, and other job-related factors.