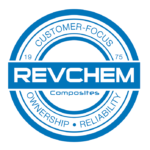 Website Revchem Composites
Composite Solutions... Delivered Daily
Warehouse/Driver Position at Distribution Company. We are looking to add a Part Time warehouse/driver to our Team at our Tumwater, WA Facility. This is a direct hire position. Candidate should have some experience in warehouse work and know how to drive a sit down forklift and have experience as a delivery driver. Driver – Hazmat Endorsement preferred
Monday through Thursday – 12 noon to 6:00 PM
SUMMARY/OBJECTIVE: This position revolves around a warehouse environment and focuses on the loading and unloading of material by way of a forklift and pallet jack; building orders, loading trucks, and stocking of products. This position requires the employee to be self-motivated, organized, detail oriented and have the ability to lift at least 60 lbs. This position is important to the overall success of the warehouse. Your high level of accuracy and productivity helps us ensure the right products get to the right place at the right time. This position is responsible for stocking products, loading totes for shipping, and order selection that ultimately gets in the hands of our customers.
Order Picking and Packing: Employee carefully picks product. Orders are built carefully on pallets with large heavy material on the bottom and light material on the top. Hazardous material labels are to be placed correctly on boxes and hazardous materials are not mixed with nonhazardous.
Properly loading trucks as directed by supervisor, record order pulls to include Qty's and Lots/serial #'s
. Drive forklift to move cargo and pallets and load trucks
. General housekeeping and maintenance of area aisles by removing all debris (shrink wrap, pallets, banding, etc.) from locations and walkways. Product in assigned aisles is kept in a neat, clean and organized manner matching assigned bin locations.