Reliability • Customer Focus • Ownership
Since 1975 we have helped customers improve their processes as well as grow their businesses. We do what it takes to help keep your business profitable and relevant in today's ever-changing environment.
⇓ Scroll down for more info ⇓
Browse our Catalog
Customer Portal
Welcome To Revchem Composites
45 years ago, Douglas and Gina Dennis started Revchem Composites. Doug and Gina saw an opportunity in distributing composites materials and the foresight to recognize the future of materials were changing as fast as our culture was. 
Revchem gained notoriety in Southern California for reliability, efficiency, expert technical support, and an unrivaled commitment to customer service. Soon one delivery vehicle turned into two. Today, we have a fleet of semi-trucks and delivery vans at five strategic locations dedicated to delivering composite solutions daily.
We distribute composite materials of the highest quality. We live by our long-held values in each interaction we have with each other and our customers. Our dream from the beginning was to be a "Value-Added Supplier," with reliability and technical expertise at our core. Thank you for your support of Revchem Composites.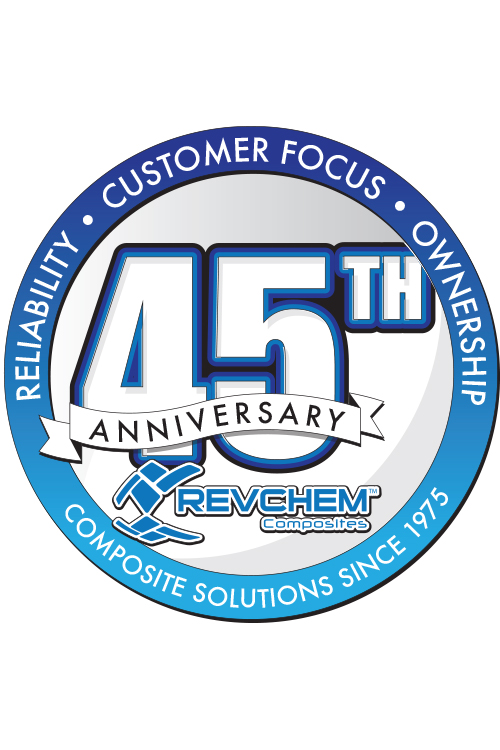 A wealth of products and knowledge
Over 4,000 products
from more than 200 suppliers
We offer an extensive selection of materials, supplies, and equipment to the composites industry. Our extensive inventory, technical expertise, on-site support, personalized customer service and fast, flexible delivery makes us a valuable partner to the composites industry.
We supply the Marine Industry with gel-coats, process materials, structural core products, adhesives, woven reinforcements, tooling products, vacuum and infusion materials, and technical expertise.
Douglas Surf, our signature surf products, is a leading distributor of resins, blanks, fabrics, tools, and accessories for the Surfboard Industry. Douglas Surf offers a complete line of proven materials for building and repairing surfboards.
We provide solutions for the Automotive Industry, which have improved design flexibility, weight reduction, reduced tooling costs, and corrosion resistance for many custom and production manufacturers.
We work directly with a large percentage of the Movie Industry's Special Effects Departments and Mold Crews. You will find our products and materials in nearly every application of set design and special effects.
We supply advanced composites to the aerospace industry. We can provide CoC's for our customers, which guarantees the product meets the required standards or specifications for their particular application.
We support many job shops that build custom parts used in yachts, industrial, architectural, marine structures, and much more. We help develop processes that balance performance, cost, and time requirements for our customers.
The Sport's Industry is the leader in composites consumption. We supply manufacturers of golf shafts, racquets, skis, snowboards, hockey sticks, fishing rods, bicycles, and more with a wide array of essential products.
The defense and military sector has always been on the cutting edge of advanced composites materials. We offer products that can reduce weight and provide better physical properties in most applications.
What Our Customers are Saying

"
Wealth of knowledge

"

Revchem Costa Mesa, CA Store 
"My guy, Gabe, is the man. Wealth of knowledge that tells you what you need to know."
Brett M.

"
Love these people!

"

Bloomington, CA Distribution Center 
"Love these people! They're very helpful & knowledgeable & there products and prices are unbeatable! You get what you pay for!"
David M.

"We have been a customer for over 15 years. Always happy with service, quality and responsiveness. The team always goes the extra mile!"
Americh Corporation

"My Customer Service Rep, is extremely helpful with rush orders and very quick to send order confirmations. The delivery drivers are always efficient and courteous."
Pacific Research Laboratories
Latest News & Upcoming Events
Here you can find the latest news from Revchem Composites and information on upcoming trade shows and events that we plan to participate in.
NHRA racers and fans gather in Indianapolis every Labor Day weekend for the world's biggest drag race. No career is truly complete without a win at the Big Go, something only accentuated by enormous car counts and fans and racers descending in Indy from all over the...
Southern California
Corporate Office & Distribution Center

2720 South Willow Avenue
Bloomington, CA 92316
Toll Free: 800.281.4975

Open 6am – 7pm | Monday thru Friday
---
Costa Mesa, California
Retail Store & Distribution Center

2035 Placentia Ave., B-1
Costa Mesa, CA 92627
Toll Free: 800.281.4975

Open 7am – 4pm | Monday thru Friday
---

San Fernando, California
Retail Store & Distribution Center

768 Arroyo Street
San Fernando CA 91347
Toll Free: 800.281.4975

Open 7am – 4pm | Monday thru Friday
---
Stockton, California
Distribution Center

4807 South Airport Way #D
Stockton, CA 95206
Toll Free: 800.281.4975

Open 9am – 5pm | Monday thru Friday
---
Tumwater, Washington 
Distribution Center

963 RW Johnson Blvd. SW
Tumwater, WA 98512
Toll Free: 800.281.4975

Open 6am – 4:30pm | Monday thru Friday
---
Drop Us a Line
Don't be shy. Let us know if you have any questions!