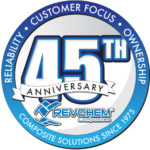 Website Revchem Composites
Composite Solutions... Delivered Daily
Warehouse Associate (Part-Time) Revchem Composites – Costa Mesa, CA
JOB SUMMARY:
Warehouse environment and focuses on the loading and unloading of material by way of a forklift and pallet jack; building orders, loading trucks, and stocking of products. This position requires the employee to be self-motivated, organized, detail-oriented and can lift at least 60lbs.
COMPENSATION:
$18.00/hr for approximately 20 hours per week.
DUTIES/RESPONSIBILITIES:
Order Picking and Packing: Employee carefully picks product verifying correct product and quantity, emphasis on units of measure i.e., lbs., gallons, or yards. Orders are built carefully on pallets with large, heavy material on the bottom and light material on the top.
Loading of Trucks: Properly loads trucks using route manifest supplied by the supervisor, Records order pulls including Qty's and lot/serial #'s.
Forklift Driver: Drive forklift to move cargo and pallets and load trucks.
Product Rotation: Uses first in first out (FIFO) when stocking and pulling merchandise. Picks the oldest lot number first and notifies the supervisor of expired material immediately. Check for valid bin locations when pulling or stocking merchandise.
Maintaining Aisles: Properly maintains aisles by removing all debris (shrink-wrap, pallets, banding, etc.) from locations and walkways. The product in assigned aisles is kept in a neat, clean, and organized manner matching assigned bin locations.
Other duties assigned as needed.
CORE COMPETENCIES:
Team Player: Works well with others in a fast-paced and diverse environment. Supports management goals through personal commitment and dedication
Ethics and Values: Models our culture and values every day
Communication: Excellent verbal and written communication skills and detail-oriented
EDUCATION/EXPERIENCE:
* 1+ years' experience in shipping/receiving, warehouse stocking or related functions
* Forklift Certification-Preferred
* HS graduate preferred
* Must be able to pass a pre-employment physical and drug screening
PHYSICAL DEMANDS:
While performing the duties of this job, the employee is routinely required to: sit, walk, talk, hear, stoop, kneel, crouch, twist, reach, stretch and use hands to; finger, handle and feel. The employee must be able to lift and/or move up to 60 pounds.
TIME AND ATTENDANCE:
This position is Monday-Friday from 8 AM – 12 PM at our Costa Mesa, CA facility.